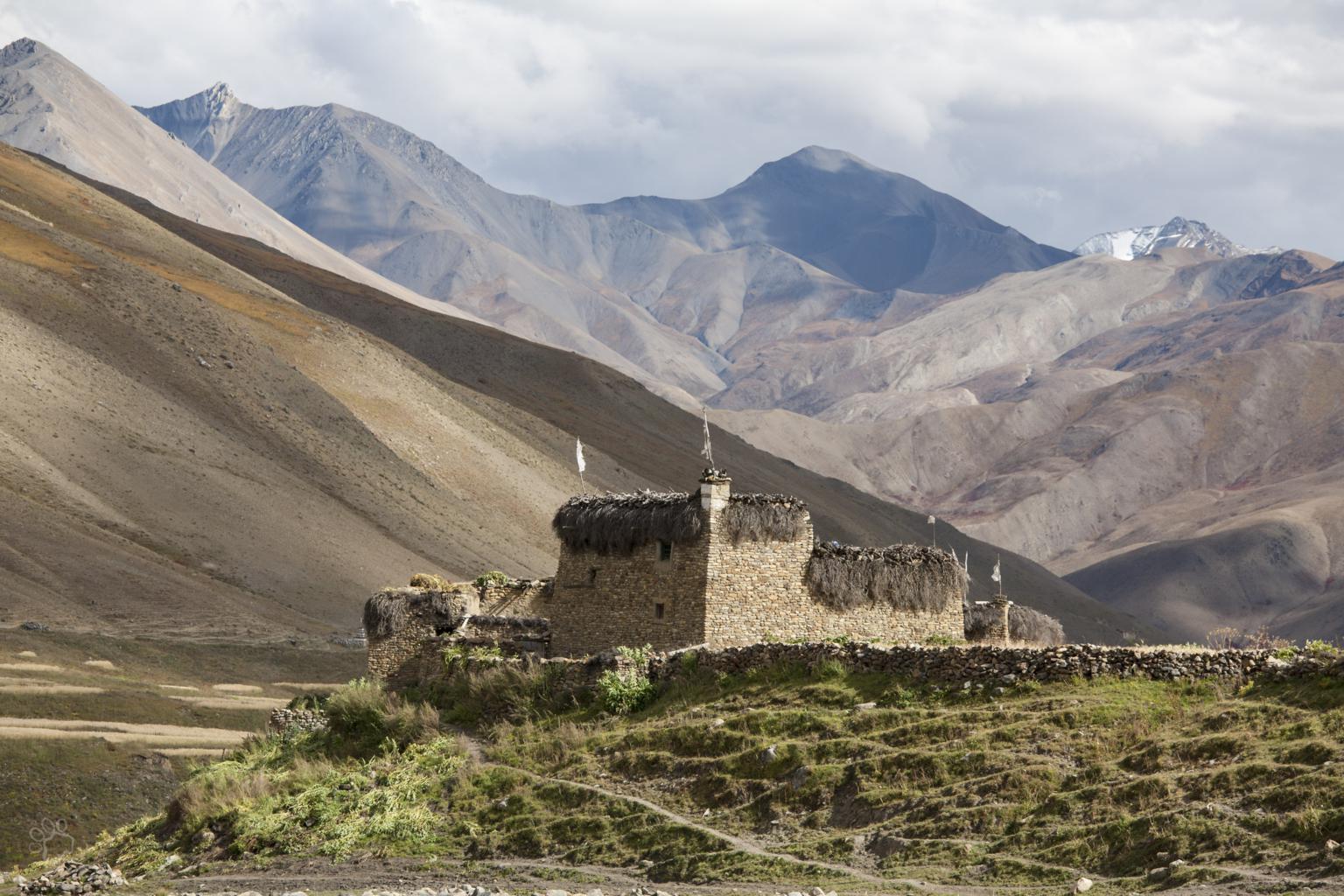 Upper Dolpa Trekking Cost
Upper Dolpa trek is the forbidden kingdom of high altitude trek in Mid-Western Nepal. This trek takes to you unspoiled and remote trekking region in Nepal. You will enjoy the outstanding beauty of the diverse landscape with ancient cultural beauty of the Dolpa region trek. Upper Dolpa trekking cost is expensive than Everest base camp trek, Annapurna base camp trek and any other trekking region in Nepal. This is the restricted trekking region you have to pay extra more for the Restricted areas permits and transportation cost.
There are many trekking routes to Upper Dolpa trek. Along the trekking trails, you will experience the Bon and Tibetan Buddhist culture with their culture and lifestyle reflect the Tibetan influence culture. Your trekking trail crosses the tiny remote villages clustered on the banks of rivers and streams. This region is still untouched by the modernity and they are flowing traditional lifestyle.
Shey-Phoksundo a turquoise-colored lake is one of the major attraction of the Upper Dolpa trek. Besides, you will experience the biodiversity of this region trek. You can see Snow leopards, blue sheep and many other animals along the trek. Also, you will walk through trails of the Oscar-nominated CARAVAN movie to arrive at Salla Ghari from where the spectacular view of Kanjiwora Himal, Annapurna and Dhaulagiri range is seen. There are monasteries, shrines, and ancient villages that will experience the ancient beauty of local culture and people.
Content
Trekking to Upper Dolpa
Highlights of the Upper Dolpa Trek
Upper Dolpa Trekking Cost
Upper Dolpa Trek cost including
Cost of airport Transfer
Cost of Meal and Accommodation
Guide Service
Porter Service
Transportation Cost
Permits
Necessary Items
Cost Exclude
Conclusion
Trekking to Upper Dolpa
The Upper Dolpa Trek is the restricted trekking region trek. So you can't trek independently in Upper Dolpa. You must have trekking guide licensed holder trekking guide with government-affiliated trekking agency in Nepal. A guide will be very helpful to manage all necessary documents during the trek with proper information about trekking region.
Upper Dolpa trekking cost is pretty high comparing to the other region trek in Nepal. There are a few reasons behind the trek. The duration of the trek, as well as air flight cost, will be higher because you have total four flight Kathmandu to Dolpa region trek. Plus, the airfare is expensive for the foreigner comparatively for the locals.
However, the trip is long and every day's expenses increase the cost. Because of the remoteness, you have more potters to carry your backpack, tent, sleeping bag with necessary items and you have also brought some foods for some days camping trek. In your group should have to person so that cost will remain reasonable for you.
Besides, there is another factor to increase your trekking cost in Upper Dolpa trek permits. Being restricted Upper Dolpa trek permits is high for foreigners – $500 for ten days and $ 50 for extra each day and it makes pretty expensive. Plus, Shey-Phoksundo National Park permit and Lower Dolpa trekking permits increased the cost of your trek.
Why people still interested to do an Upper Dolpa trek by paying such high price?
Well, the trek offers the amazing beauty of nature no any other trekking region in Nepal. You will get the chance to behold the caravans of yaks and sheep. You are witnessing the nomadic and agro-pastoral life of some locals. And there is an experience of Bonpo people and Tibetan lifestyle. It will make your journey more adventurous and enjoyable.
Highlights of the Upper Dolpa Trek
Shey-Phoksundo Lake
Explore Shey Gompa and Buddhist monasteries
Enjoy the beauty of Crystal Mountains
High passes over 5000 meters
Old and traditional villages
Tibetan-influenced culture
Bonpo and Tibetan Buddhism
Nomadic and agro-pastoral lifestyle
Blue sheep, snow leopard, and Himalayan musk deer in the wilds
Yarsagumba- a medicinal herb
Upper Dolpa Trekking Cost
Upper Dolpo Trekking cost around $3550 per person. There should be a minimum of 2 trekkers. It includes your trip cost from your arrival to until departure day.
However, you can customize your trip as per your time frame, objective and preference. You can choose your accommodation, number of trekking porter, trekking routes and many other trekking elements during the trip. The trek packages cost varying accordingly.
Upper Dolpa Trek
Cost Include
Below are the cost including in your trekking packages.
Cost of airport Transfer
Your trekking packages include the cost of airport pick up and departure service. As you land at the airport our company will provide pick up from the airport and drop to the hotel. It also includes your pickup and drops to the starting point of your destination. If you want to use a private vehicle from the airport then car fare is around $10-$20 depending upon the distance to your hotel.
Cost of Meal and Accommodation
You have multiple options in Kathmandu and Nepaljung for the accommodation service. But you have stayed during trek tea houses or camped tent. Trekking company will help to organize your good accommodation.
The trekking packages include breakfast in Kathmandu. You have to pay Lunch and Dinner yourself. But as you leave in Kathmandu the trekking packages include full broad your meal.
Besides, you are staying good hotel in Kathmandu and Nepaljung as your choice. The rooms are usually twin shared. If you want to pay extra more you can stay alone.  But the tea houses provide basic facilities service. Furthermore, you have to stay also tent camp.
The city areas Kathmandu and Nepaljung hotel provides plenty of food options. They provide Nepali, Chines, Indian, Italian, Continental dishes in these cities. But as you begin you trek you have a limited option of food during the trek.
Upper Dolpa trek tea houses have rice, noodles, and seasonal vegetables for meals. And they usually provide bread, cereals, and eggs for breakfast. Small shops have noodles, biscuits, and sweets in the region.
For food and accommodation cost will be around $40 per day couple of trekkers.
Guide Service
Upper Dolpa Trek is the restricted and remote region trek. So you highly recommend the experience and a lot of knowledge about the Himalayan region in Nepal. Also, the guide will able to talk fluently with you and the local people.
Usually, the guide service cost will be around $30-$40 per guide per day. Add $30 for the guide insurance.
The guide will provide proper information about the trekking trail and Himalayan region in Nepal. Also, they will introduce difficulty and challenge during the trek and overcome this situation. With proper communication, you will experience the villages, culture and tradition. You can easily explore the remoteness and unique guidance companion beside you. A responsible guide makes your adventurous journey more comfortable and enjoyable.
Porter Service
Porter will manage Upper Dolpa trek from Jhuphal starting point of the trek. The maximum load carries by porter is 30KG. But the challenging and altitude trek the porter can carry, it will decrease 15-20KG.
The porter service will have cost around $25-$30 including their food. If you need to porter you have to pay extra more. And add to that $25 for the insurance for each porter.
Porter will carry your heavy backpack and you have a pleasant walk without burden. They were quicker mentoring throughout the trail. And they are arriving faster your trekking destination and prepare the tent or tea houses while you arrive before the tent camp.
Transportation Cost
You have to fly over the Nepaljung from Kathmandu. Nepaljung is the big city of Mid-Western in Nepal, you can get easily flight ticket to Nepaljung. One way flight ticket will be around $190 per person for the foreigner traveller. The airfare for Nepalese is about Rs. 8700($87).
You can also use a local bus to reach Nepaljung. It will take about a 16 hours' drive. If you have not to travel long by bus, it will be boring and difficult.
From Nepaljung to Juphal it takes around 45 minutes flights. Few airlines schedule early in the morning flight over the Juphal. The airfare Nepaljung to Jhuphal is $165 per person. For the Nepalese, the ticket cost around Rs. 8700. The baggage limited is around 20-25 kg depending on the flight you take.
The cost of a flight ticket will depend on you choose airlines. The Nepal Airlines ticket price rate is cheaper as compared to other airlines.
During travel, you might be facing a few complications. There are only a few flights from Nepaljung to Jhuphal and vice versa. The flights to Jhuphal will depend on the weather condition because of the geographically constrained area located in the mountain airstrip.
Besides, you have to pre-book your flight tickets. If you are not doing so you have face delay during your travel. Your trekking agency will book your ticket in advance you don't need to worry about it.
Note: you have baggage limited fly from Nepaljung to Jhuphal only 10 kg limit for hold baggage and 5 kg for hand luggage.
Permits
Upper Dolpa Trek is the restricted region and it was open from 1996 to the foreign visitor. However, being open Upper Dolpa to the traveller, the restricted trekking trail is quite expensive for the trekkers. The restricted region Upper Dolpa permits cost is $500 per person for the 10 days trek. After that each day you have to pay $50 per person. Thus cost you Upper Dopa permits depend on your trekking itinerary.
For Upper Dolpa trek you have to apply for additional permits.  Lower Dolpo permit costs will be $10 per week per person. Likewise, Shey-Phoksundo National Park permit costs $30 per person. If you want to exit from the Jomsom you have to pay an additional more $ 20 for the Annapurna conservation areas.
You do not need to apply TIMS for the Upper Dolpa trek.
Necessary Items
Upper Dolpa Trek is the long duration and demanding high altitude trek in Nepal. During the trek, you are far from cities and modern facilities. Sometimes you have to walk without seeing any human settlements. So you have to think about well-preparation of the trek.
The trekking company will help to an arrangement of the trekking gears and equipment for the trek. If you have you can bring something for your comfortable and enjoyable trek. The company provide a duffle bag, tent, sleeping bag, first aid kit, trekking map, and any other necessary items for the trek.
There are also cost that but the trekking company does not include in your trekking packages. Below are the cost excludes in your trek packages.
Cost Exclude
Nepal visa cost (USD 25 for two weeks and USD 40 a month)
International flight to and from Nepal
Travel insurance
Personal expenses
Beverages
Tips to guides, cooks, porters
Emergency rescue (if needed)
Conclusion
Upper Dolpa trek gives you to experience the nature and remote part of Nepal. The trekking trail passing through the breathtaking landscapes and unexplored Upper Dolpa region. You can observe the nomadic and agro-pastoral lifestyle of local, the Tibetan influence culture of Tibetan Buddhist and Bonpo, and the settlements above 4000m altitude.
Do you have any quarry about Dolpa trek contact us? Adventure Alpine Gorkha Treks is a local trekking agency with first-hand knowledge of Dolpo. We make sure you will experience the amazing trek in your entire life.
Namaste from the lap of Himalayan country Nepal!!!