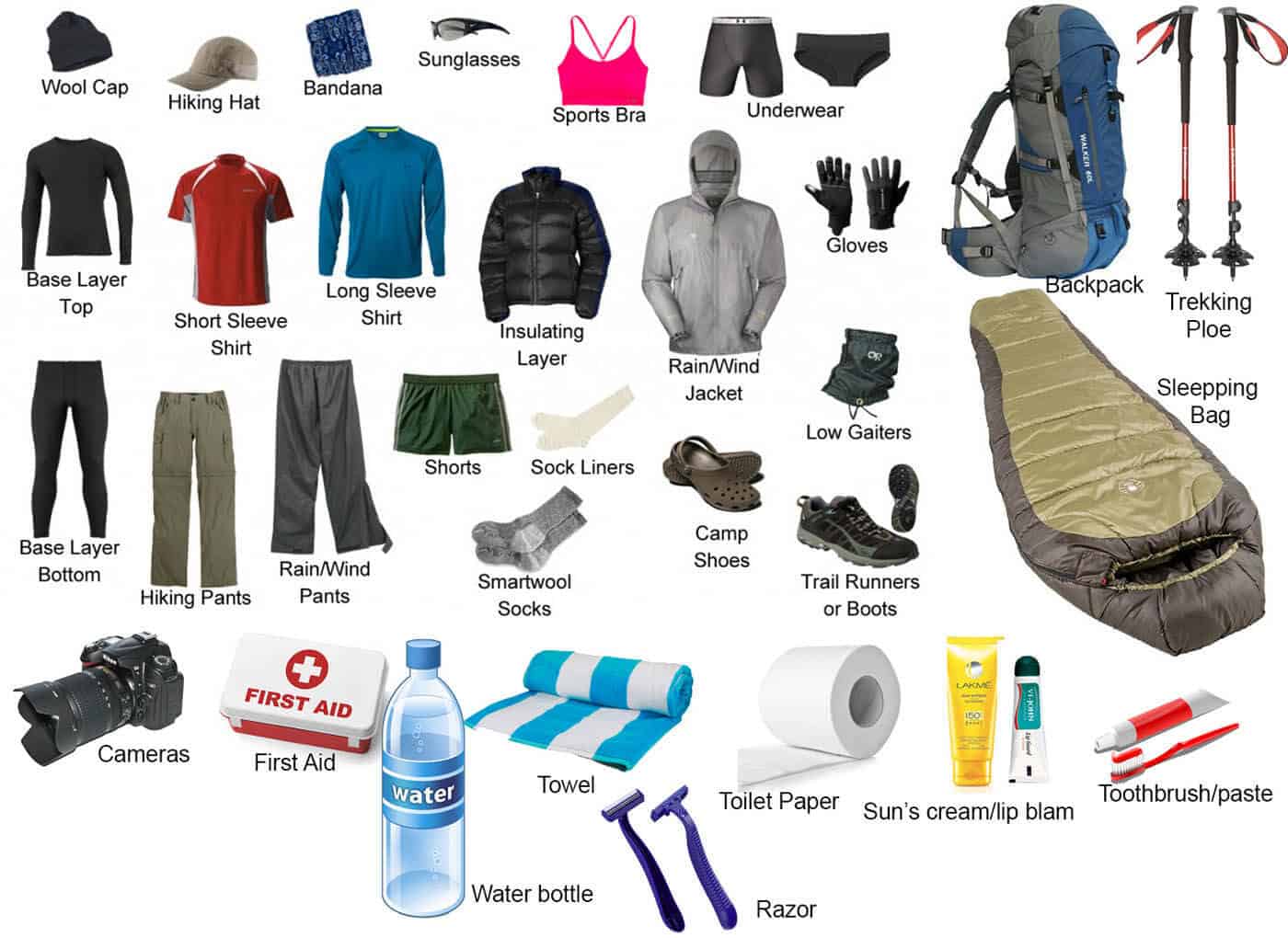 Packing List for Trekking in Nepal
Trekking in Himalayan country Nepal is a life challenging and adventurous experience.  If you are planning Trekking in Nepal you have proper preparation and arrangement of trekking gears and equipment. On the other hand, you can consult with an experienced trekking company talking about the packing list for the trekking in Nepal.
For the safe and comfortable travel, you have to choose correct trekking gears as per the trekking season. Most people underestimate the value of a good packing list before leaving a trip. Sometimes packing too much or too little spoiled your adventurous journey. So you have to conform while leaving a trip how much should I bring? It will also depend upon the trekking days with the trekking trail. For example the Everest base camp trek more cloths than the Ghorepani Poon Hill trek, it is more challenging and a longer one.
In Nepal most of the trekking trail stat with lower elevation in moderate temperature to higher elevation in cold weather.  So, you have to bring a layer of cloths you can change according to the altitude and temperature variations.
Content
Essential Packing List for trekking in Nepal
Essentials
Tent
Sleeping bag
A sturdy bag
Day pack
Hiking boots
Thick woolen socks
Trekking poles
Clothing
Hiking shorts
T-shirt
Cargo trousers
Waterproof jackets
Underwear and sport bra
Sweater, Fleece Jacket or Pullover
Winter hat, Gloves and Cap/Sunhat
Toiletries
Sunscreen
Hand sanitizer
Biodegradable bar soap
Lip balm and Moisturizing skin cream
Medications
Miscellaneous
Water bottle
Slipper
Raincoat and bag cover
Sunglass
Headlamps with extra batteries
Camera with extra batteries
Travel adapter and chargers
Fanny pack
Extras
Books and pen
Duct tape
First aid kit
Extra passport photos and photocopies of your passport/documents
Towel
Conclusion
As a general rule, you are starting a trek with lightweight warm trekking clothes. During sunny days trek, you may feel comfortable t-shirt and shorts. If the weather became cold you can add warm clothes tracksuit, down jacket, warm pants, hats, and gloves as per your interest.
The first and foremost thing you need to keep your mind while moving a trip you need to backpack comfortable and easy walk. It doesn't matter whether you are looking beautiful or handsome but you have to wear easy to walk trekking boots in higher altitude. It should be durable.
You must read the blog packing list for trekking in Nepal. It will give you general ideas for the trekking gear and equipment.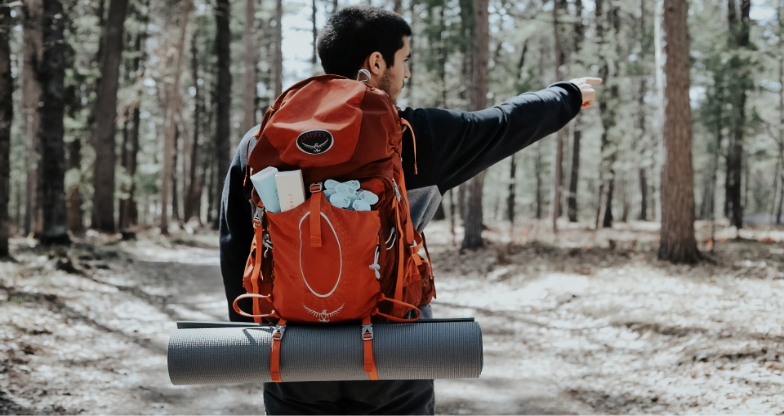 Essential Packing List for trekking in Nepal
You are packing for the Himalayan region trek in Nepal. So you have to conscious about the comfortable and suitable clothes for the trekking region and climate of the trekking trail. Make your trip enjoyable and memorable with carrying lightweight clothes, don't make it a burden.
If you are a beginner of the trekkers in higher altitude you have to learn about the necessary elements of the wise packing list. Packing wise will save you money. It won't be a burden when you are trekking gears and equipment packing doesn't compromise on anything if you pack smart.
Since you trek in remote areas in Nepal, you need to pack right trekking gears for the best trekking. While taking part in the trek in the Himalayan region, you might be facing some challenges and difficulties during the trek. Thus you have to backpack the right things, you should take seriously.
Essentials
Tent
If you are doing camping trekking in Nepal tent is necessary instead of staying at tea houses. The tent is needed while you trek in lack of tea houses of trekking trail or peak trekking season in Nepal. However, you had like to more adventurous journey in the Himalayan region, you can do camping trek in Nepal like Annapurna base camp, Everest base camp, Manaslu circuit trek, etc.
Sleeping bag
Trekking in Nepal in the Himalayan region means you have to bring a sleeping bag. It should have -10 to -20 degree capacity. We cannot predict the weather condition at higher altitudes. The sleeping bag is optional for most of the trek. But you have to bring and it is not the heavy one to carry. It helps your body to protect from the cold weather. It is good to have for the trek.
A sturdy bag
A bag is most important for keeping your clothes throughout the trek. You have to choose a good capacity of trekking backpack, which can hold enough trekking gears can carry comfortably.
You have to make smart decisions if you purchase a waterproof bag.  It will help to protect your other clothes and gear. You have to bring a bag with extra space with it can carry 60-70 liters.
Your sturdy bag will carry your porter. And you don't need to worry about the burden during a trek. A porter will carry 15-20 KG. Thus you have to buy a comfortable and durable hiking bag because it should carry for a long day's higher altitude trek.
Day pack
A day pack is needed to carry personal items such as sunscreen, camera, hat, wallet, passport, water bottles, snack, etc. Normally, a 25-30 liter bag is ideal for the day pack size.
Hiking boots
You have to walk in rough and rugged terrains throughout the trek. The hiking boots should be comfortable and easy to walk. Also, it should be durable.
The trekking trail is unpredictable so you have to think about the precaution. Hiking boots will save from the ankle sprains and other foot-related injuries. As you have to walk 5-6 hours a day, good quality hiking shoes will make your comfortable journey.
Thick woolen socks
Thick woolen socks are really warm and comfortable while walking for a long hour's journey. It will be needed for the higher altitude trek. Trekking boots will be a little uncomfortable to walk the beginning of the days but thick socks will help you to get the possible blisters and chafing.
Trekking poles
Trekking poles are needed for the trek. They help to maintain your stability while walking in an upward trail. These poles help to reduce the stress on your Knee as you will not fully pressure in your Knee.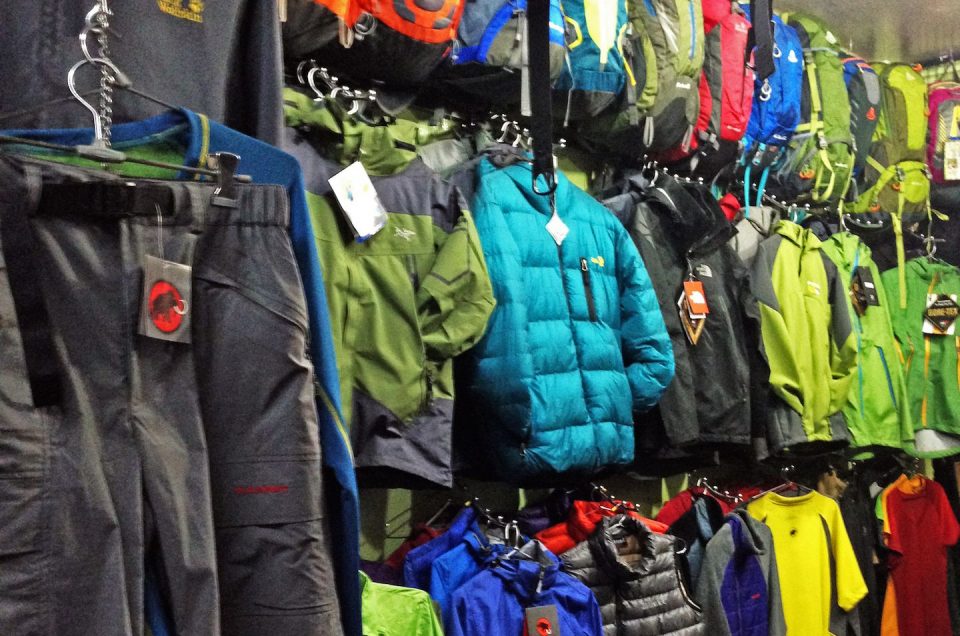 Clothing
Hiking shorts
While you trek in lower altitude and sunny days will helpful to ware hiking shorts. It will help to walk comfortably. They are cooler than pants and can be substituted for tracks on lower altitude treks and hikes.
T-shirt
Bring a few pairs of t-shirt short and long-sleeved for the trip. You have to carry lightweight t-shirts so you have more weight and space to spare. To get synthetic ones, you can dry the moisture from your body faster than the other material.
Cargo trousers
You can choose the cargo trousers. They are quick to dry synthetic materials. It has the pockets of a lot that can use for the trek. But you will not have heavy paint for the higher elevation trek.
 Waterproof/windproof jackets
Trekking in the Himalayan region we cannot predict the weather condition. Whatever you are planning in spring or winter season trek you may encounter the rainfall along the trekking trail. Taking a risk is not worth it.
While trekking in higher altitude you may suffer from the windy days. So you have to bring waterproof as well as a windproof jacket. If you are trekking in the winter season you can get snowfall. It is also helpful during the trek. It will save your body from the rainfall as well as snowfall.
Underwear and sport bra
Pack your breathable, lightweight, and moisture ricking undergarments for the trek.
Female trekkers should bring a good pair of synthetic sports bra.  A good quality sports bra will help your wick the sweat from your body and dry. It will leave you sweaty like a normal.
Sweater, Fleece Jacket or Pullover
You will have to bring a sweater, fleece jacket or pullover one of these protects your body from the cold weather. These will helps your body warm as you gain higher altitude. None of these are wind/waterproof items. These are the upper body part of clothes.
Winter hat, Gloves and Cap/Sunhat
Winter hat, gloves, and cap are very helpful for the higher altitude trek. It will not useful during day time hiking. While you are getting towards the higher elevation your body will be suffering from cold at that time these are good to wear to protect from the cool weather.
You can bring Sunhat to protect your face from ultra-violate rays from the sun.
Toiletries
You should not forget all the necessary items under the toiletries. Carry everything in travel-friendly boxes or tubes to reduce the weight. So do pack your toothbrush, toothpaste, deodorant, floss, face wash, a small towel, and toilet paper.
Sunscreen
Sunscreen will help your body to born skin from the sun. Thus include the good sunblock lotion with a minimum of 40 SPF in your trekking packing list.
Hand sanitizer
You will not find every tea house soap and water along the trek. The trekking trail will be dusty and dirty.  So, hand sanitizer will side in your day pack to save from the germs.
Biodegradable bar soap
Biodegradable soap will very useful to wash your hands and body during the trek. The tea house will not provide the soap, you have to bring handy and good soap to wash your body.
Lip balm and Moisturizing skin cream
The weather at higher altitudes is windy and changeable most of the time. So, your skin and lips wear crack, where lip balm and moisturizing skin cream will help your body protect.
Medications
Don't forget to bring medicine if you are using a daily basis. But you have to pack for more days what you are planning, if you may extend your trip. Also, carry medications for pain, fever, or inflammation like Ibuprofen. If you are trekking higher altitude you have to think about altitude sickness to makes a good plan.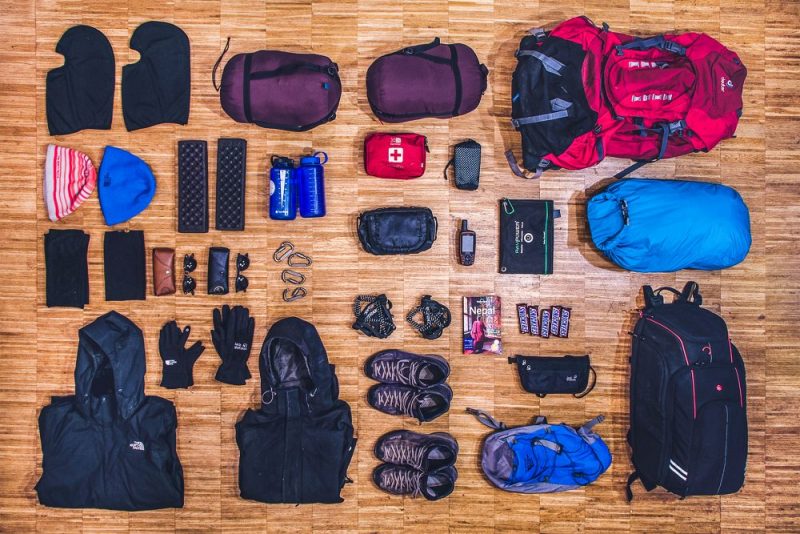 Miscellaneous
Water bottle
Most of the trekking trail leading through the remote villages.  But you can get to buy water bottle some of the tea houses in Lower elevation trek. However, you will get in a higher altitude trek. Also, it will expensive for you to buy water while gaining a higher altitude. If you have a bottle you can pour water along the trek and using cleaning medicine and drink along the trek. It can be reused. You have to bring at list 2-liter bottle.
Slipper
Along the trek whenever you are taking a rest you might use a lightweight slipper. After a long time hiking with boats, you want some relief your leg. So it can use them.
Raincoat and bag cover
Keep your backpack from the rainfall, you might be facing along the trek. Carry a raincoat to keep yourself dry in case of rain. And have a bag cover to keep your belongings dry.
Sunglass
Sunglass is another important thing during the trek. It will safeguard from the sun as well as snow along the higher altitude trek. If you by Polaroid pair of sunglasses. The Polaroid glass provides the protection of your eyes from the snow.
Headlamps with extra batteries
Headlamps are necessary for the night walk. If you are trekking some of the regions you have to start early in the morning and some of the viewpoint trip to catch the glimpse of sunrise views of the Himalayan region. Some of the places you will get the proper management of electricity. Also, you can use it for the restroom in the night. So you have to bring with you extra batteries too.
Camera with extra batteries
Nepal is the famous remarkable trekking destination, where you can capture the amazing movement to your camera. Every traveler wants to capture a beautiful place. So don't miss the best opportunity to capture the beautiful nature. You should carry the extra batteries you cannot find the batteries along the trek.
Portable chargers
Don't forget to bring a portable charger. If you don't bring your own charger, your device will don't fit with different charging portals and voltage as your own. It will easy to bring yourself otherwise you have to ask others.
Fanny pack
A fanny pack will help you to keep safe your personal documents. Money, essential documents, cards can be safe in a fanny pack. It will always with you and you don't need to worry about it.
Extras.
Books and pen
Carry books and pen is recommended for the trek. While in a trek if you want to spend time reading something in a book. You can bring a story, novel, biography, scientific books and so on. It will easily time pass along the trek. The tea houses also can find a book but these will not meet your interest. Pen also helpful to write something in your daily routine as well as fulfill the form along the trekking trail.
Duct tape
If your bags are damaged for the first time. It will help to fixed temporarily.  Don't increase unnecessarily heavyweight, do not put the entire roll.
First aid kit
You should carry the small first aid kit for the medication. A pain relief spray, Band-Aids, painkillers, rehydration salts, Imodium, medical tapes may all seem like small things. It will help you to overcome the recent problem during the trek. Keep these products inside a portable first aid box.
Towel
The tea houses will not provide the towel along the Himalayan region. So, better to have their own towel than asking with others in tea houses.
Water purifier
We cannot be guaranteed the drinking water along the trek. So, you have to bring water purifier as well as purified medicine. Carry a tiny water purifier, such as the Stair pen.
Trek map
Trek map will help you navigate the trekking route. If you don't have a trekking guide you may lose the trekking trail. It will also help to plan your trip
Extra passport photos and photocopies of your passport/documents
Don't lose the most important document for your travel. You have to photocopy all your passport, insurance copy as well as trekking permits. It will be useful if you lost your original documents.
Conclusion
There is numerous trekking destination in Nepal. If you want to make your trekking more enjoyable and funny you have a proper packing list for trekking in Nepal before.
Make smart planning what to carry and what not to. But make sure it is a difficult task to the proper arrangement of trekking gears according to the trekking trail.
I hope you have an unforgettable and thrilling adventure in Nepal.
Do you have any further inquiries you can write an email or contact us?
Visit website www.adventurealpinetreks.com
Namaste from the lap of Himalayan country Nepal!!!