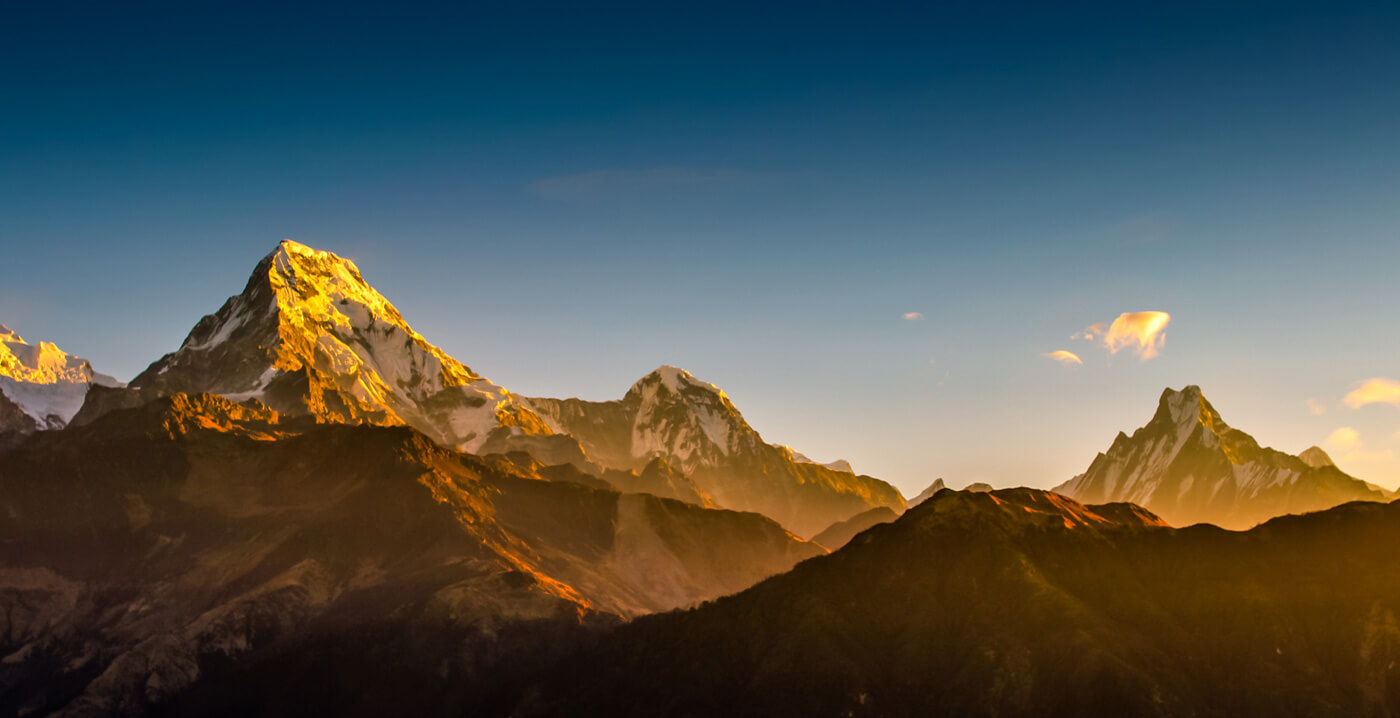 Most Popular Scenic Ghorepani Poon Hill Trek
The most popular Scenic Ghorepani Poon Hill Trek is the beautiful and panoramic place to visit of all Himalayan trekking region. The trek offers various wonderful reasons as Ghorepani Poon Hill a scenic and closest mountain destination from lovely Pokhara city.
The area for warm and friendly hospitality from the native hill people known as Poon of Magar tribe widely populated within Nepal Mid to Far West Himalaya with traditional heritage of farming and raising live-stock.
Where men-folk are deployed in foreign legion as famous Gorkha soldiers mostly with British and Indian Army with some in Singapore as policemen, people of Mongolian origin practice both Hindu and Buddhism religion interesting to witness local culture and traditions of Poon Magar at Ghorepani village.
Ghorepani located at 2,860 m and 9,380 ft in the midst of nice forested surrounding within tall rhododendron and magnolia tree lines, where in spring time of March to May the hills around Ghorepani will be alive with wild-flowers in full bloom especially rhododendron (national flower of Nepal).
Forest around Ghorepani Poon Hill regarded as world's largest natural garden for rhododendron flowering trees and bushes with various species and colors, truly the area will be a paradise for naturalist, botany students and as well for nature lovers.
Staying overnight at Ghorepani in the comfort of nice lodge facing views of Dhaulagiri range with Annapurna peaks, where early morning hike takes you on top scenic Poon Hill at above 3,210 m and 10, 531 ft high offers incredible sunrise views over array of mountain range.
Panorama of mountains includes Mt. Dhaulagiri (world 7th highest at 8,167 m), Tukuche, and Nilgiri's peak with Vara Shikar / Annapurna Fang with Mt. Annapurna (world 10th highest at 8,091 m) includes majestic Machhapuchare Himal the famous Fish Tail peak extends towards Lamjung Himal and Manaslu (world 8th highest at 8,163 m) towards east direction.
The most popular scenic Ghorepani Poon Hill trek is located on Old Trans Himalaya Salt and Caravan Trail of Nepal to Tibet that extends further west on route Upper Mustang. where the word actually means Ghode for horse and Pani for water, in early days it was a watering place for horse and mules on this Trans Himalaya Trade route.
Journey to Ghorepani Poon Hill trek starts and ends at beautiful Pokhara begins with exciting drive of few hours to reach at bottom of a hill, where walk leads on old trade trail past many farm villages with uphill to reach at Ghorepani and with hike to Poon Hill.
After enjoying marvelous time at Ghorepani with fantastic sunrise and views from Poon Hill walk leads to alternative route uphill almost on the same height of Poon Hill facing glamorous views of Dhaulagiri and Annapurna mountains and downhill with few ups to Tadapani village.
Tadapani offers grand views of Annapurna peaks located within forest where walk descends past large Ghandruk village populated by Gurung the hill tribe of Annapurna region, similar looks like Poon Magar but with a difference as Gurung follows Buddhist religion, as well serving as famous Gorkha soldiers in UK and India Gorkha Military Battalion.
An interesting village to explore and witness local culture and then slowly walk completes heading to low warm paddy farm areas where short scenic drives brings you back at wonderful city at Pokhara by its serene lake Phewa.