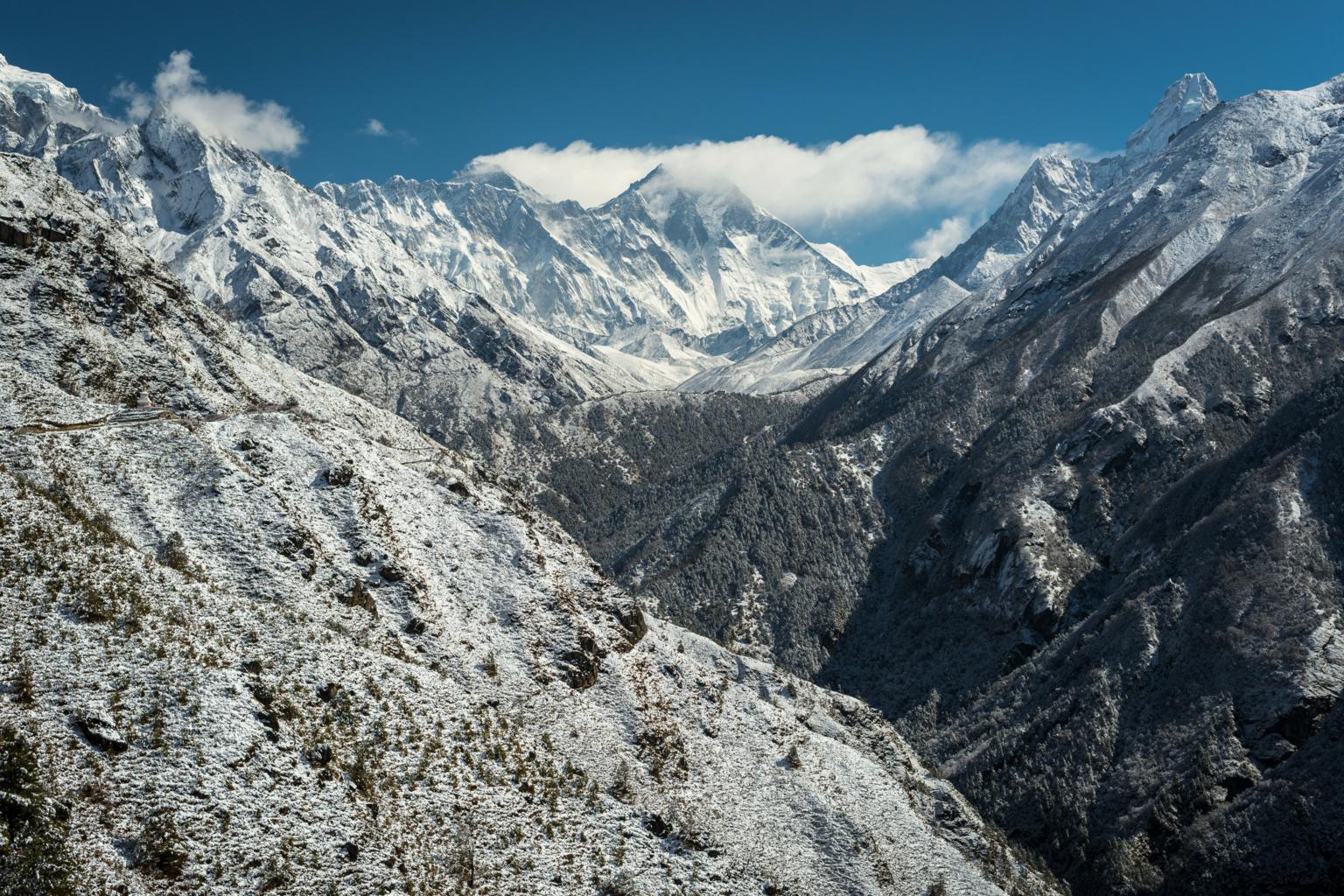 Everest Base Camp Trek in December and January
Everest base camp trek in December and January the coldest months of the year where trekkers can enjoy Christmas and New Year holidays with great adventure within the world's highest mountain range facing amazing scenery almost on daily walks.
An interesting walk where fewer trekkers hardly choose the adventure during the freezing time of winter, where most lodges will be closed only a few lodges operate for off-season visitors, adding more ambiance and quietness that you need to enjoy the views in a peaceful environment.
Due to the middle of winter cold months where the large flow of trekkers and mountaineers seldom venture around the time encountering freezing temperatures on walks, but late morning full of sunshine with clear crystal blue sky overlooking views of white-snow capped peaks.
Highlights 
Months of December and January crystal clear with blue sky for glorious scenery

Fewer trekkers within the tranquil surrounding and less disturbed than other peak times

Encounter few visitors where villages lodges on the route much quieter to enjoy the hospitality

Enjoy the adventure facing wide and clear mountain views all along the walks to base camp

Peaceful and ambiance of low trekking season to enjoy in the harmony of beautiful peaks"
 Everest Base Camp Trek in December and January: Advantage
Trekking during the coldest months of the year around December and January leads to a great challenge to overcome harsh freezing cold along with the wind-chill factor that you face during afternoon time.
However trekking around high scenic Khumbu to Everest base camp will be enjoyable, meeting fewer people this allows you to enjoy the serene and tranquil surroundings with a glorious panorama of the world tallest mountain range.
Where village are less active, as most of the people migrate to lower warmer area to escape the harsh winter colds, but one can find not overcrowded lodges where rooms are available at your disposal with proper care and hospitality of the local Sherpa owners.
During the cold winter months of December and January although late morning sun-lights that reach the area of overnights stops, most of the day till late afternoon will be clear with sunny days even though it gets dark much earlier by 5:30 p.m. or 6 p.m. depending upon the heights of your overnights places.
During winter times the sunrise is late from 6 a.m. onward with daylights till 5 p.m. before it gets dark but with fine clear starry night sky where you can capture billions of stars and bright planets, that not seen on other time of the year can view the stars during winter nights.
Around December and January months due to less number of trekkers and another adventurer where getting airplanes flight tickets to Lukla and back to Kathmandu will be much easier and fewer chances of delay or cancellation as most of the day will be clear and fine for smooth flights.
On flights where you can witness a fantastic panorama of the Himalayan range of mountains from the moment of take-off to landing at Lukla airport facing marvelous views of Mt. Everest, Lhotse and Makalu due east direction.
December and January months with your Merry Christmas and New Year holidays can have a great enjoyable time around the highest country on this planet which will make your celebration more exciting and memorable in the close shadow of Mt. Everest and other giant peaks.
Benefit trekking around this low cold season where you can enjoy party nights or another occasion without disturbing other guests of the lodge, due to few visitors around winter times much easier to plan and do your own planning and for the occasion.
Great scenic and enjoyable adventure challenging the winter freezing cold and as well getting the best of super views on daily walks without having to face large numbers of trekkers on route including pack animals and other travelers.
Trekking in winter months a great difference than any other time of the seasons, where you feel great and undisturbed visiting local villages and impressive monasteries on walks to Everest base camp.
Certainly, a marvelous time of the year, where some travelers might get worried and confused why to trek to world highest Mt. Everest base camp during winter months, around all Himalaya destinations, not only during December and January, where cold freezing temperatures exist even in the high best season of spring and autumn.
The time of winter can be much colder, but great for peaceful walks within clear sunny days and with clear blue sky facing an amazing panorama of dramatic landscapes and mountain views.
 Everest Base Camp Trek in December and January: Weather 
Weather and fine climate play a major role on this high altitude adventure walks, although treks to Everest base camp is not overall difficulty except for high altitude and thin air to face, especially on a steep climb, days are fine and pleasant with sunshine most of the days on walks.
The temperatures during this time of the year of December and January outside from the lodge and away from sunlight can be freezing cold, where morning and night time will reach minimum of – 15° C to – 20° Celsius especially from 4,000 m and above at Dingboche-Pheriche-Lobuche and Gorakshep on route to Everest base camp.
Maximum temperature can reach from + 15° C to + 21° Celsius from the late morning after 7 a.m till late 4 p.m. higher up from 3,000 m above sunlight can be strong and brilliant due to thin air and low oxygen level, where UV (Ultra Violet) rays can be hits direct.
Higher above and with wide exposed valley and high hills the sunlight hours are much longer than lower elevation areas, where one catches sunlight and sunsets over a range of mountains that makes the views beautiful and bright and worth the trek in winter cold months.
During December and January although with nice and clear days, can expect snow-fall sometimes which can last for a few days, but on higher area melts quickly with enough strong sunlight of the day.
Each month weather condition
:
Weather condition for each month varies where's the most popular and high season around springtime when hills are alive with green hills covered with wildflowers in full bloom during March to May months, days are longer with enough sun-lights due to spring where sunrise starts from early 5 a.m. or 5:30 a.m. last till 6 p.m. to 6:30 p.m.
During March to May pleasant temperature with fine weather conditions but colder morning and night times, can get an overcast late afternoon with some light rains and snow sometimes.
Few visitors trek during monsoon wet months from mid-June to August days are cloudy during the time of the year, but much green with enough moisture that helps you to breathe easier with much oxygen level during wet monsoon time of June to August till mid-September.
Views are obstructed with low and high wet monsoon black clouds, but enjoyable with less number of trekkers.
September to November months during autumn and fall season another best time and high peak season for treks to Everest base camp as well around all Himalayan region, with clear days for walks and views can get late afternoon cloud with light thundershowers or snow sometimes.
December and January's months fall in the winter season where trekkers are limited due to harsh freezing temperatures and much colder than any other months of the year, short sun-light hours make the day much shorter.
But enjoyable pleasant late morning walks till late afternoon time, much cold with freezing weather, where trekkers require proper warm gear from head to foot but walking will be great with mild cool temperatures of 15° C to 20° Celsius.
Can expect snow and cold wind chill factor during mid-afternoon times, walking warms you adding extra heat in your body but cold when you stop, morning and night times with very cold and freezing temperatures to cope along the walks.
During December and January, one can expect snow with blizzard sometimes that brings extra cold, but nice and warm once you start walking as well staying inside the local warm and cozy lodges on route trekking.
December and January where some glacial ponds and streams get frozen making a slippery path need to be careful on crossing streams with stepping stones especially the morning time when it's icy.
Places of interest on route Everest base camp: 
After walks from busy Lukla, town heading past nice lovely Sherpa villages of Ghat, Phakding and Monjo and entering Sagarmatha National Park (Sagarmatha for Everest in Nepal, the local Sherpa call Chomolungma.
Namche Bazaar fascinating large village almost the size of a town where trekkers can find all types of facilities from excellent restaurants, hotels, lodge to banks and ATM.
Once a week on Saturday busy and colorful market takes place in Namche Bazaar interesting activities to observe.
Other places of interest walk to Namche high point for views and visit Park museum or hike to Everest View Hotel (first posh or deluxe hotel of Khumbu) offers grand views of Mt. Everest and adjoining peaks.
Khumjung and Khunde an interesting village worth a visit located on a glacial valley worth a hike on a rest day at Namche where at Khumjung visit the monastery, the oldest religious monuments of the area and only place that treasures a scalp of a Yeti.
Other areas on route tour of famous Tengboche Monastery where once a year in the month of October or November great religious Mani-Rimdu festival held an exciting event to observe along with surrounding mountain views.