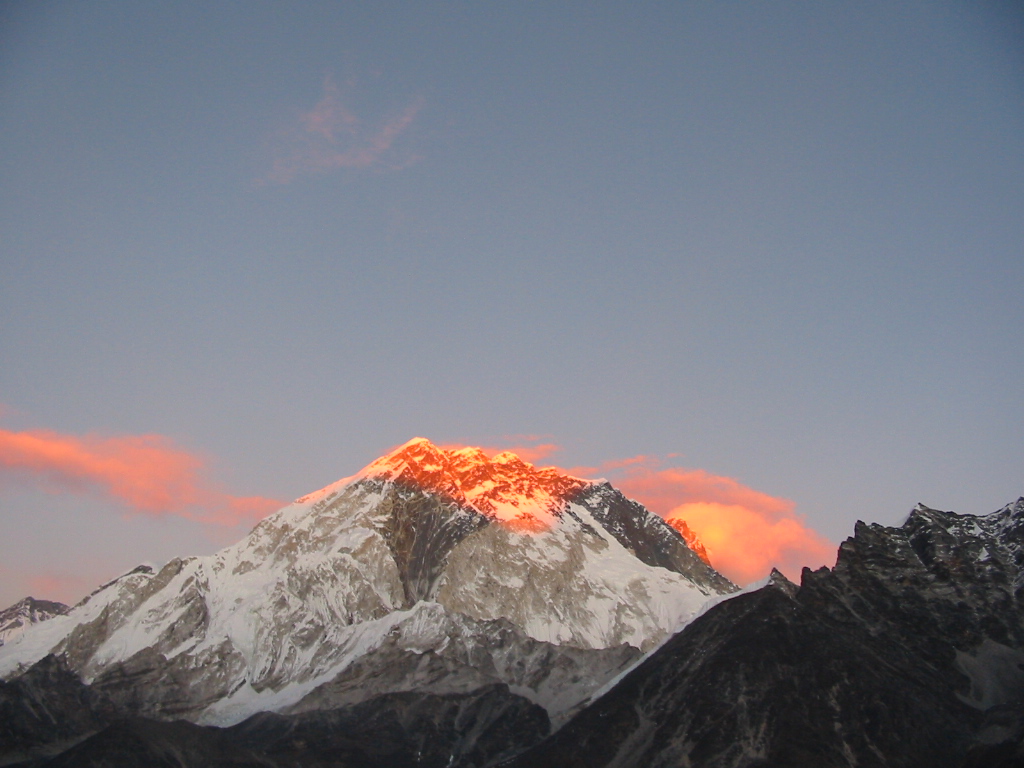 Everest Base Camp Trek Route
Enjoy the adventure reaching on the foot of the world's highest Mt. Everest, also known as the 'Third Pole' where's in Nepal called Sagarmatha with local name as Chomolungma for the same number peaks of this planet. Everest Base Camp Trek route, not an overall difficulty as long trekkers are physically fit with sound health where everyone can make it, taking slow and steady pace having acclimatization days at certain height certainly overcome all the tough hard on high altitude walks to Everest base camp.
To make Everest base camp trekking most enjoyable and a winner where every trekker should be well prepared to encounter steep climb and with high altitude, taking the advice of your guide and group leader taking time and not rushing will reach you to your goal and highlights of the adventure.
One of the marvelous high altitudes walks around the beautiful and scenic Khumbu region of Everest, where short flight in a small aircraft brings you at Lukla, a busy and gateway town for many adventure and treks, a place with unique airport and airstrip named 'Tenzing and Hillary'.
Famous and legendary mountaineers to conquer the summit of Mt. Everest way back on May 29th, 1953, since then Mt. Everest has been a dream for thousands of climbers to reach on top of the world.
The walk takes you on the beautiful pleasant path at the beginning from Lukla heading through lovely Sherpa farm villages festooned with Buddhist prayer symbols, which you will notice walking along facing views of snow-clad peaks.
As Everest base camp trek route continues following Dudh Kosi River crossing bridge several times, you are then entering at Sagarmatha National Park at Monjo village, where park permits allow you to register and then reaching the last community of Jorsalle before the climb to Namche Bazaar.
Jorsalle, a popular stop for lunch break, as this will be the last settlement with lodge and restaurants before Namche Bazaar; an afternoon walk on river banks within the serene cool forest of tall rhododendron, oaks, and pine with fir tree lines.
Slowly route takes you up to cross a high bridge above the tributary river of Imjatse that joins to make raging Dudh Kosi with Bhote Kosi river flowing from northwest Khumbu area, climb on a beautiful wide trail lined with tall trees facing grand views of Kongde, Kumsum-Khanguru with other range of peaks.
On bright, beautiful morning or afternoon views of Mt. Everest, Lhotse, and Nuptse can be seen on walks to Namche Bazaar.
Reaching at the famous and colorful large village at Namche Bazaar, almost a size of a town, where many good lodges, hotels, and resorts located with excellent eatery restaurants and pubs are found within Namche.
An exciting place to stay for few days and as well for acclimatization at the height of 3,440 m, where one can take a short hike to capture a more wonderful panorama of Everest, Amadablam and adjoining surrounding peaks.
Namche holds a busy market once a week on Saturday hence the word Bazaar tagged to Namche, from here on excellent scenic trails overlooking views of Everest with majestic Amadablam to reach high and beautiful Tengboche with its impressive monastery located within cool green forest and mountains that surrounds.
With ample time at Tengboche to visit the monastery of great interest with Everest and Amadablam on the backdrop, the adventure continues leaving the green tree lines for sheer wilderness as slow climb reaches you last permanent human settlement and village at Pangboche.
From here on overnights around temporary settlements, Dingboche, Pheriche, and Lobuche with Gorakshep that caters the requirement for visitors walk with views as altitude gains gradually to reach on the foot of Mt. Everest after Dingboche, Lobuche, and Gorakshep.
Everest base camp located at the height of 5,364 m high beneath towering peak of Everest and its tumbling Khumbu Icefall with glaciers enclosed between peaks of Lo-la, Nuptse, and Lhotse, during high expedition times of April and May, this place is flooded with camping tents of mountaineers.
Enjoying time at Everest base camp optional hike takes you on top of Kalapathar rocky hill at 5,545 m the highest point of the adventure rewards you with the spectacular panorama of giant peaks that surround you with closet views of Mt. Everest and Mt. Pumori at a near distance.
Tough steep climb to reach on top Kalapathar from the base at Gorakshep after a pleasant overnight stop after reaching Everest base camp, completing our highlights of the adventure return journey on the same route via Pheriche windy valley to reach Namche Bazaar.
From Namche Bazaar where walk takes you to Lukla for last final overnight stop of the adventure, on downhill route within lower elevation and making easier to breath enjoying lovely scenery to reach at Lukla.
Early next morning as a time for your short flight board in the aircraft for the flight to Kathmandu or Ramechap at Manthali town airport with four hours' drive back to Kathmandu after a most fantastic time and adventure on Everest base camp trekking.
Why Manthali airport at Ramechap district:   
The civil aviation of Nepal declared that all domestic flights to and from Kathmandu-Lukla-Kathmandu operating from the town of Manthali, which is about near 4 hours' drive towards the southeast of Kathmandu.
The reason behind for several reasons, like air traffic as Kathmandu with an only international airport at present,The other reason due to weather-wise and to make the flight journey much shorter from Manthali to Lukla and back.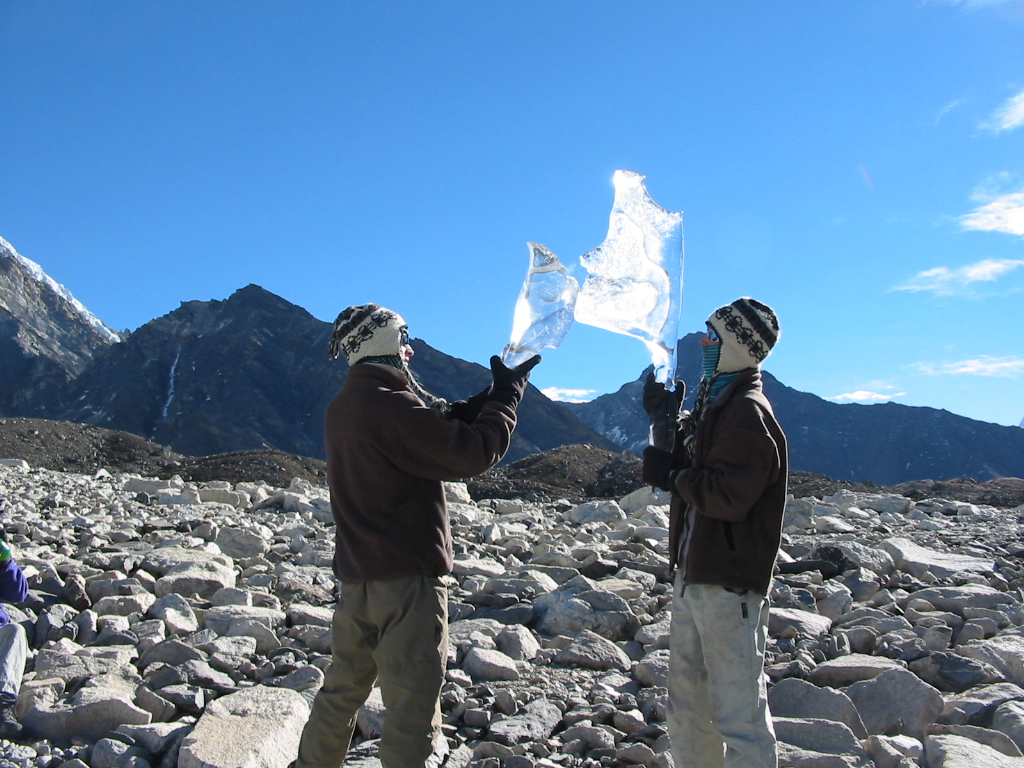 Accommodation and Foods on Everest base camp trek route:
After leaving the hotel in Kathmandu, if the drive is involved to Manthali, Ramechap for flight to Lukla where overnight stop in hotels and local lodge and foods at Manthali is very basic, that is why your agents have to drive early morning by 2 a.m. to reach Manthali airport for Lukla flight and vice-versa.
From Lukla onwards, where one can find lovely lodges and resorts or hotels to choose from the budget, simple to standard or deluxe / luxury till Dingboche / Pheriche-Lobuche and at last place in Gorakshep.
Most hotels and lodge from Lukla till Pangboche one can find rooms with attached bathrooms and toilets but with beautiful spacious rooms as per the standard of the lodge on routes.
Meals come from either set menu or la-carte includes various items from famous and popular Nepalese Dal-Bhat to Sherpa / Tibetan meals of noodles (either veg mix fried or with soup) to continental and Chinese foods including Indian (Chappati-Pilau etc….).
All meals during night time served in sweet and large cozy dining halls, where most dining with fire-place (pot-bellied stove using Yak dung fuel) to warm the rooms.
Most lodges with rooms have shared bathrooms and toilets where clients have to pay extra using hot showers and baths as well for charging electronic devices.
Weather and best time for Everest Base Camp Trekking: 
Nearly all months of the year, one can trek except the wet monsoon season from mid-June to mid-September with heavy clouds that obstruct the views as well where flights get delayed and canceled most due to unfavorable bad weather condition.
The best time would be from March to May and mid-September till December months when days are bright at its best for views and pleasant walks, March to May springtimes when wild-flowers are in bloom till Tengboche within green vegetation and tree lines.
Cold in the morning and night time as well in shades but with longer sun-light hours can expect cloudy afternoon with snowfall sometimes around higher altitude from 3,000 m above.
September to December, most morning and afternoon, are crystal clear for views and walks, but with low sun or daylights due to autumn and pre-winter seasons.
Expect freezing temperatures could sometimes snow during the trek from a higher elevation above 3,000 m onwards.
Other months January and February, can be trekked but very cold with our without wind-chill factor. Still, pleasant day with fewer trekkers to encounter due to much colder months, where some lodge can be close as local Sherpa migrates to a lower warm area to escape the harsh winter cold.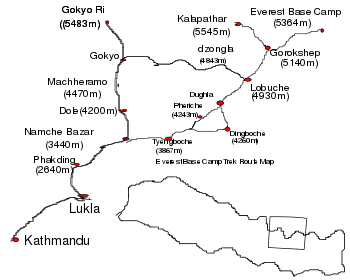 Short Itinerary of Everest Base Camp Trek Route:
Day 01: Fly to Lukla 2,820 m (35 mins) and walk to Phakding 2,654 m- 04 hrs.
Day 02: Trek to Namche Bazaar 3,440 m- 06 hrs.
Day 03: In Namche for rest and acclimatization with a short hike.
Day 04: Trek to Tengboche 3,867 m – 05 hrs.
Day 05: Trek to Dingboche 4,365 m – 05 hrs.
Day 06: Another rest day at Dingboche for acclimatization and local hike.
Day 07: Trek to Lobuche 4,890 m – 05 hrs.
Day 08: Trek to Everest Base Camp 5,365 m and at Gorakshep 5,180 m-06 hrs
Day 09: Climb Kalapathar 5,545 m and walk to Pangboche 3,900 m-06 hrs.
Day 10: Trek to Namche Bazaar – 06 hrs.
Day 11: Trek to Lukla – 06 hrs.
Day 12: Fly back to Kathmandu and transfer to hotel.
Various Routes to Everest Base Camp:
Besides flying to Lukla and back, one can take the original classic route to reach Namche, and onward to Everest base camp with a flight from Lukla takes more than a week duration walking from Jiri town or further after taking a drive from Kathmandu.
Other ways drive in four-wheel drive to reach at Salleri within Solo area south of Khumbu, and Everest takes more than 6-7 hrs to drive then trek towards Everest base camp and back the same way or fly from Lukla to reach Kathmandu.
Options to reach Everest base camp from the eastern side of Everest taking a flight to Tumlingtar around low, warm Arun valley and then walk towards Namche and onward to base camp then fly from Lukla to Kathmandu.
Note; Please note that a day or two requires the trek as it involves flights where sometimes can get delayed or canceled due to adverse weather conditions on both ways to and from Lukla-Kathmandu.
Due to the change of airport operating from Manthali-Ramechap, where trekkers need to be in Kathmandu a few days earlier for preparation as well for an early morning drive to catch the flight, including on the way back.
Do you have any further inquiry, you can contact us or email us!